Amari + Other Liqueurs
A catalogue of the amari and other liqueurs I've experimented with making.
Piñamaro
Inspired by Heirloom's Pineapple Amaro, this was a first attempt a creating an amaro that doesn't have a neutral grain spirit base.

My first version of Piñamaro was the result of 2 weeks of macerating flash-frozen fresh pineapple, cinnamon, lime leaf, lime peel, pandan, star anise, bay leaf, cardamom, clove, mace, annato, gentian, and sasparilla in 72% ABV mix of Rum Fire, Smith + Cross, and Everclear. The maceration was then diluted to 42%, sweetened at 140g/L of sugar, and bottled in packaging I designed.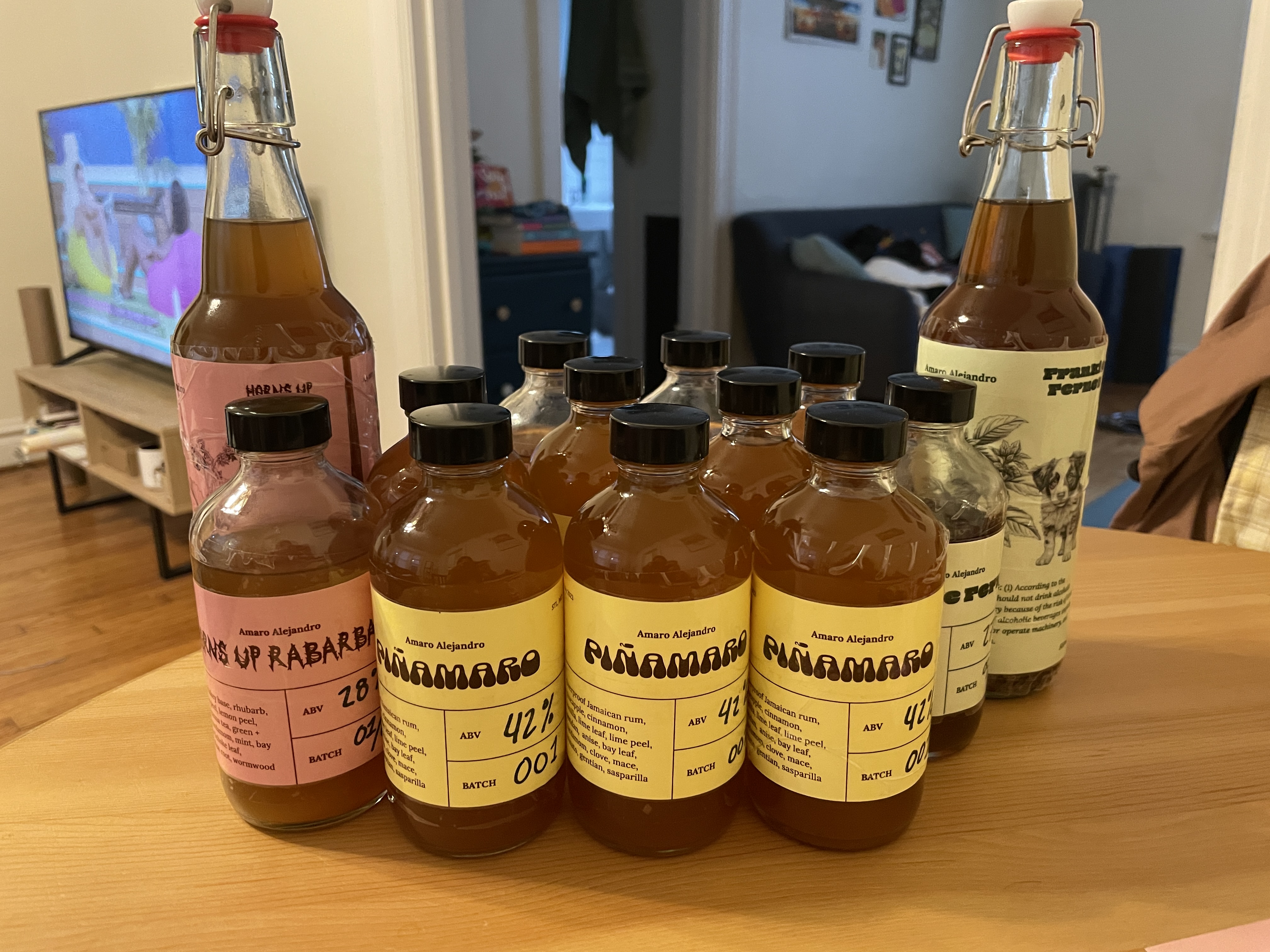 Frankie Fernet
The next attempt in mix-base amaro was spurred by my want to combine Mezcal and Fernet into an approachable entry to both.
The same 2 week maceration approach was taken here, using a combination of Banhez Espadín and Barril Mezcal Ensamble and everclear (for improved maceration). The main two components were fresh mint and galangal. Taking a secondary seat, in flavor profile, were: sage, lemon peel, orange peel, gentian, cinchona bark, wormwood, and sasparilla. This version was bottled to 27%ABV. The name and packaging took inspiration from my fellow Nixta bartender Kelsie's aussie/dauchsand puppy Frankie.
HORNS UP RABARBARO
A rabarbaro that builds on the spice of a bonded Rye Whiskey base to deliver the perfect fall amaro.
With "Horns Up" (an ode to my first mentor behind the bar and his love for metal), I also went for maceration. The liquid component was a 65% abv base of Rittenhouse Rye and Everclear. The solid components were fresh rhubarb, orange peel, lemon peel, ninna nanna tea, green + black cardamom, mint, bay leaf, dried artichoke leaf, dandelion root, and wormwood. Bottled at 28% ABV.
Triple Cherry Liqueur
On a quest to somehow make a better cherry liqueur than Luxardo Maraschino, this was the first step. Not better, but pretty damn good.
The three cherries here were meant to create a depth of flavor that captures all, or at least most, of the amazing flavors cherry has to offer. Tart, fresh cherries and their pits were combined with dried cherries, the syrup from maraschino cherries, lemon peel, and anise in a bath of Evercleat to macerate for 1 month. The resulting liqueur was bottled at 25%, as I wanted to have a slightly stronger, and less sweet liqueur than Luxardo's take.